Sep 8, 2021
Stavvy Eligibility Engine Launches, Powering Faster and Easier All-Digital Real Estate Transactions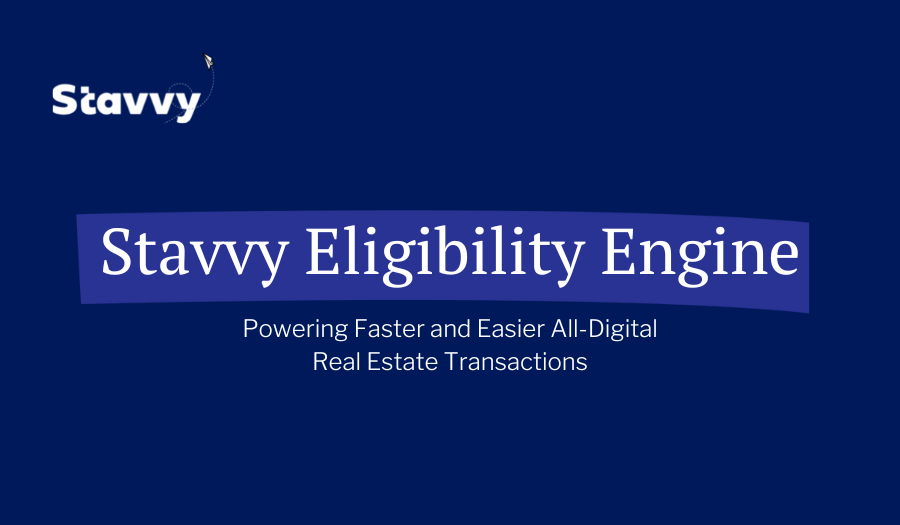 Feature allows key stakeholders to seamlessly determine RIN, RON and eRecording eligibility, for one loan or for an entire portfolio
BOSTON, MA - SEPTEMBER 8, 2021 - Stavvy, the fintech startup making complex legal and financial transactions easier, safer, and more accessible to all, today announced the official launch of the Stavvy Eligibility Engine, a tool that allows users to save time by quickly and effortlessly determining whether a loan transaction is eligible for Remote Online Notarization (RON), Remote Ink Notarization (RIN), and eRecording. Stavvy's platform automatically searches and interprets laws and emergency measures at the town, county, and state levels, and immediately informs the user what type of transactions are available. The tool is available for all Stavvy users today.
As consumers increasingly demand fully remote access to their loans and mortgages, states across the country are establishing or expanding RON and related measures. There are currently 38 states in which RON is permanently available, but each specific address may be subject to a wide variety of different rules and regulations regarding electronic recording options. Until now, keeping track of applicable laws (and emergency measures during COVID-19) and underwriting guidelines was an onerous and time-consuming task. The Stavvy Eligibility Engine automates this process and presents the users with the relevant options for each and every transaction.
"We're proud of the innovative tool we've built with the Stavvy Eligibility Engine, especially the value and time savings it provides our customers," said Shane Hartzler, Chief Strategy Officer at Stavvy. "We know that the success of an eClosing transaction relies on identifying early on whether a loan is eligible, and on educating all the stakeholders involved: loan officers, title agents, borrowers, and others. We're excited that the Stavvy Eligibility Engine is now officially launched, moving the industry forward towards the inevitable all-digital future."
The Stavvy Eligibility Engine is available for use today through the Stavvy platform and via API connection as a real-time, customizable tool to check individual loans or assess an entire portfolio of loans. It can be employed for loan origination, title and settlement, or for loan servicing. And since Stavvy is the only RON provider that has a solution purpose-built for the loss mitigation workflow (including the ability for bank acknowledgment), this will be an invaluable tool for lenders and servicers in determining whether a loan modification or partial claim can be done digitally during initial contact with the home-owner. For loan originators using Stavvy, they have the ability to import investor rules into the Stavvy Eligibility Engine, so that lenders and customers know with greater certainty whether they can do a fully-digital closing on day zero.